Exciting new campaign!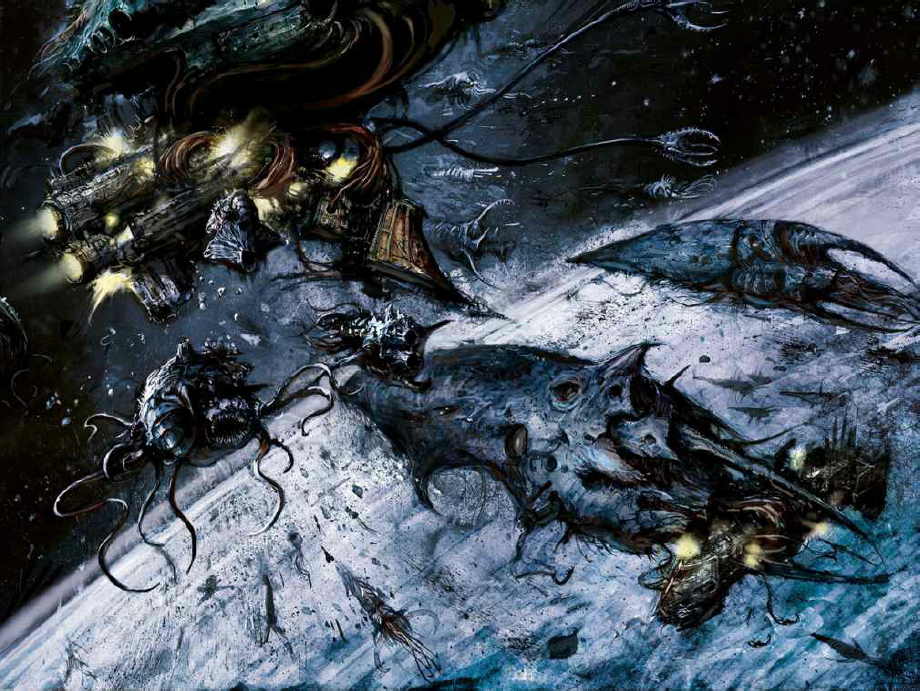 That's more than minor resistance!
So my local GW store (local=45 minutes away without traffic) started a campaign based on the leviathan series.  The store is the venue, though it was organized by a guy there named Stan.  He asked around and got the players than put it all together.  It is a total of 27 players.  Each player can play BFG or 40k or both.  Those that are interested in BFG but don't have the ships can use the paper printouts he sent out.  It is a little varied because the breakdown consists of the following:
9 Nid players (3 playing BFG, 1 both, and 5 straight 40k)
4 Chaos players (1 playing BFG, 1 both, and 2 straight 40k)
1 Necron player (40k)
2 Tau (Both 40K)
3 Eldar (1 Playing BFG, 2 playing 40k)
8 Imperial (Knights, IG, Space Marine- 4 playing Both, 4 playing 40k only)
The concept is this.  The system is being invaded by Nids.  Necrons were already there, and I can't remember the fluff behind the Tau or Eldar, but he spun it very well.  The Chaos forces are arriving to capitalize and seize the system amidst the chaos when the nids show up and alliances are forged between the smaller groups in hasty hand shakes as battle is joined…and those alliances are in no way binding…you make friends and then you shoot them in the face when there is less chance of you getting eaten.  I have elected to run straight BFG as the person with the most Chaos BFG there and I am the most into it for Chaos.  Each faction gets x points based on their positions and then get x reinforcements per month (1 weekend a month, for 4 months.  3 games per day).  The system has 5 planets and 1 starbase (where the fighting is amidst corridors and chambers, sort of like kill team).  Nothing is notional unless you don't have a BFG fleet then the rule is that you can move I think 500 points per game to a different planet.  After purchasing the units, you may not even play with them as you send them to a planet controlled by a different commander.  This way, each planetary battlefield (2 6×4 tables, a total of 10 tables used) is run simultaneously.  The necron commander was actually bouncing between planets.  It went really smoothly and the BFG aspect was really awesome.
As the more experienced BFG player and also the only BFG player with models I got the lions share of points and got 2000 (a LOT but I figured I would be losing a lot and the between game and between week bump is not enough to build back up completely)
My flagship, a Despoiler Class Battleship (The Throne of Chaos) is captained by Tiberius Drusus, the warmaster of the successor chapter of the Word Bearers, Lorgar's Knights with a CSM crew and terminators.  My flagship was 545 point.
Next was my Repulsive Grand Cruiser with CSM Crew (265 points) – Warpwrath
Styx Class Heavy Cruiser with CSM Crew (325 Points) – The Kingslayer
Chaos Devastation Class Cruiser (190 points) – Knight Of Damnation
Slaughter Class Cruiser with CSM Crew (200 points) – Night of Judgement
Slaughter Class Cruiser with CSM Crew (200 points) – The Brass Butcher
3 Idolator Class Raiders (135 points) – The Enlighteners
3 Idolator Class Raiders (135 points) – Iron Angels
That comes up to 1995 points, 18 launch bays, and a pretty solid list.  Lists were kept secret, and oddly enough (and unbeknownst to me, so were point values).  Then each team made a strategy and split lists and points, units, etc.  The chaos players elected for me to escort the bulk of transports and the other BFG player, Chris, to escort a small elite group of mostly a conglomerate of terminators with heavy support vehicles to the far side of a planet out of harms way to attack from the enemies rear (The planets were marked with markings that corresponded to side of table- ie, if you enter high orbit on this side, your transports could enter the fight (assuming they survived surface defense salvos, from a specific side).  Little did I know that while Chaos had 6000 points of 40k stuff and 3000 points of BFG, the Nids were getting a LOT more.  Like, a LOT.  Then Stan, playing GM, offered "intel" on the other teams plans and we could make minor modifications (we were using a dry erase board and magnets for a campaign map).
My fleet crashed into the imperial line and was generally doing some really ugly damage, I mean I was not only rolling hot but I laid a trap and he bought it and I lured all of his escorts way way too far out and picked his fleet apart.  Then the nids showed up.  Boy oh boy, did they show up.  Intel was wrong and the "minor risk of Tyranid presence turned out to be their main effort.
However, since BFG in my opinion is such a great medium for narratives over the next several months I will be telling the campaign in Narrative fashion.  It will focus around Tiberius, Furak (A boarding party sergeant aboard the Warpwrath), Dekevelus (A senior staff officer aboard the Night of Judgement).  Suffice to say, these will not be the only characters, but they will be the focal points…oh, and spoiler, not all of those ships survive.  Like, not even close.  I suspect this campaign is gonna be a LOT like game of thrones…shit dying EVERYWHERE!
Well, thanks for reading,
Looking forward to publishing the first episode,
KI
One response